The Field Journal – April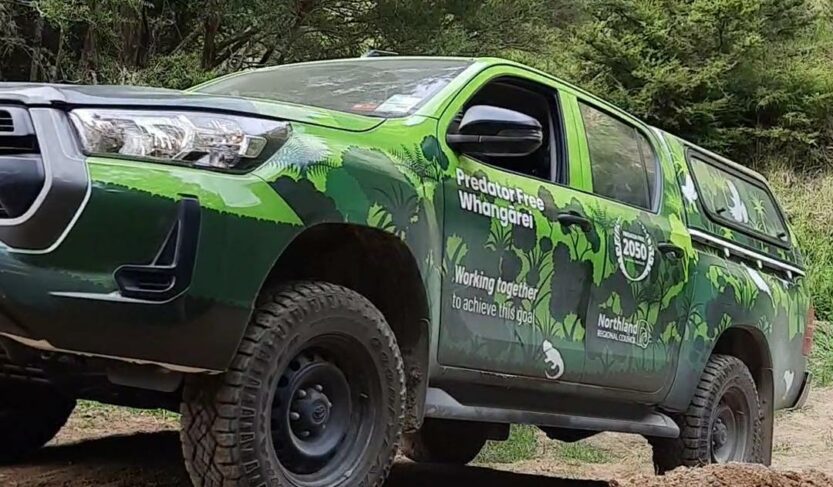 This month's field journal was written by Biosecurity Officer, Riley Edwards
April has been a momentous month for the project, being able to go 'live' with the eradication devices in our first Bream Head/Te Whara working block. It's been busy setting up and servicing the devices – some like our Flipping Timmy traps require weekly checks. Other devices such as our toxin stations requires servicing every fortnight. You get to know the terrain pretty well. It's hard mahi, but conservation is something I am very passionate about.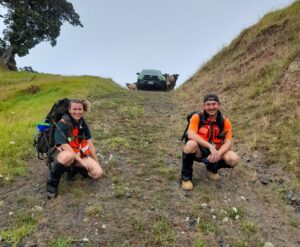 After finishing university, I worked throughout the South Island on various conservation projects, however like many others, following the COVID-19 outbreak I lost my job and rental property. As a result, I moved back to Northland to drive the school bus for my nana, milk cows with my brother, and finally ended up working at the famous Arthur's Emporium. I vividly remember running down the aisle and jumping into a heap of cushion inners when I received the news that I got the job as Biosecurity Officer for the Northland Regional Council.
My new role as Biosecurity Officer in Whangarei Heads has felt like a breath of fresh air, literally. Being able to put my time towards a cause I truly support has drastically improved my daily life with far less clock watching. I feel a part of such a special project with such amazing community support, making me so proud to tell others about what we are doing.
My favourite part of the job is when I am alone in the bush and can take a second to stop and listen, or when a bird, often a fantail, flies alongside me. Even when the rain is pouring or the wind is howling, I will be smiling because I am doing something I love and getting paid which is often hard to believe.
With any job there are always little bits you don't enjoy so much. Killing things is not something I enjoy, however after time I have got my head around this for the ultimate goal of restoring and protecting our native flora & fauna. I've had my share of wasp stings, electric shocks, scrapes from overgrown gorse, and little tumbles down the hill, yet it's not enough to send me packing. I guess another great aspect of working alone is that nobody can hear my verbal frustrations.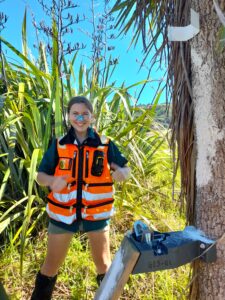 It has been eye-opening seeing how innovative technology can help us too. This month we trialed our live leghold traps, which sends us a notification when a possum has been caught. It has worked really well and we caught eight possums altogether during this short trial period. I'm looking forward to being able to return to the Whangārei heads in the future knowing I have helped restore the forest and allow our natives to flourish.
April 30, 2022